A favorite scenic spot for local hikers and vacationers alike, the beautiful two mile trail loop at Tubbs Hill near Coeur d'Alene is but one hiking trail at the site that has something for everyone. The trail spans a heavily forested peninsula which extends into Lake Coeur d'Alene, providing a charming trail rich with the wildlife native to the northern Idaho area. Tubbs Hill is centrally located on the northern shore of the lake, and is only a few minutes away from our downtown Coeur d'Alene bed and breakfast.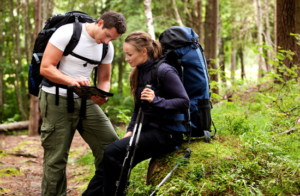 The popular area has an unusual name, which originates from Tony Tubbs, a German immigrant who developed some of the area's first property back in 1884. Today, the majestic features of the peninsula set it apart. Its unique geographic features keep new visitors coming all the time to experience the sights. Natural caves formed in rock which tower three stories tall are interspersed throughout the peninsula's winding trail system. The metamorphic geological formations underfoot and in the bed of the lake which seem to shimmer ever so slightly are highlighted by mica, colloquially known as 'fool's gold'.
If you visit Tubbs Hill, you will be greeted by the majestic natural splendor of northern Idaho no matter the season. The peninsula is praised by visitors as being spectacularly full of sights to see no matter the season; Spring flowers burst into bloom, animals run and play in Summer sunshine, the red and gold leaves of Autumn set the sky ablaze, and the cool crispness of winter draws out eagles, osprey and other stunning predators.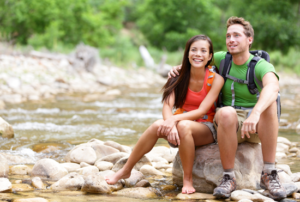 If you are visiting Coeur d'Alene and looking for a spot for a scenic day trip, look no further. Your family will thrill at the chance to explore the exciting Tubbs Hill peninsula with its towering Ponderosa pines, unique geological formations and beautiful wildlife. On the shore, the family can set sail for a fishing trip or kayaking jaunt, coming back for a picnic later. On shore bird watching is a lovely way to conclude the day as the shorebirds and waterfowl dart about artfully.
The trails at Tubbs Hill are good for all experience levels, and dogs are welcome.
This pristine haven of nature has been a huge draw to the Coeur d'Alene area for many years and is certainly worth a look while you're in the area- bring your swimsuit and enjoy making a day of it.