While there are plenty of places to experience nature in a tame setting during your visit to Coeur d'Alene, a trip to the Route of the Hiawatha Bike Trail leaves most visitors seriously in awe of the power of nature to sculpt the land on which we live. The trail can be traveled in two ways- one spans a total of 30 miles, and has an elevation gain of 2,000 feet; the other is a 17 mile downhill track of compressed dirt with a 1,000 foot elevation loss. At the end of the downhill trail, a shuttle awaits riders and transports them back to the trail head.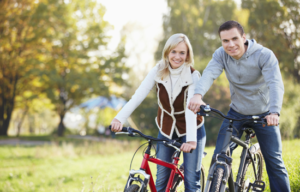 An adventure on the Route of the Hiawatha trail is one that is appreciated by locals and visitors alike. Experienced bikers travel significant distances to ride the beautiful trail, which is adorned with all the trappings of northern Idaho. Tall, dense pine trees cradle beautiful songbirds and the hills in the distance seem to shimmer. The trail follows a section of abandoned rail bed, but was turned into a non-motorized trail by the Taft Tunnel Preservation Society. Riders will travel through many tunnels, over railroad trestles and will see a waterfall and stunning overlooks during their journey.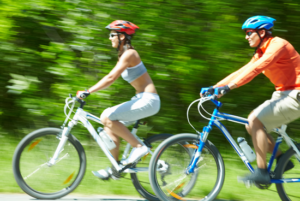 The Route of the Hiawatha Bike Trail is perfect for experienced mountain bikers looking for the thrill of a new adventure. Grab an adventurous friend or family member and forge on to the trail's head, where you can test your strength and endurance while making your way up the incline, or experience the incredible adrenaline of the downhill ride. You will enjoy the precision construction of the railroad tunnels and trestles and enjoy the magnificent natural vistas the trail presents to you.
When staying at our downtown Coeur d'Alene inn for business or pleasure, any adventurous mountain biker should make a journey to the Route of the Hiawatha bike trail. There are so many things to see and do in the Pacific Northwest, but for someone who truly loves nature, a good trail ride is one thing that should never be missed. Bring a camera to capture pictures of some of the Gem state's native flora and fauna to share your journey with friends and family. Grab your bike, strap on your helmet, fill your CamelBak up with water and get ready for the ride of a lifetime!