I've discovered lately that you cannot take time for granted. The two ladies in the photo are my sweet mother, and my Aunt Bea. Yes I was as lucky as Opie to have an Aunt Bea. Anyway I lost them both this past winter,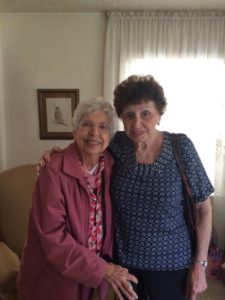 in a matter of months. There are things that we planned to do together that kept getting bumped to "next time". They both went relatively quickly my Mother, in 6 days, my Aunt a few months, but I never thought that time was that short. I now have the attitude to "make time", no more "next time's" for me. Make the time to call, to visit, or to experience something together. Our memories are a great consolation when that is all we have left.
Come enjoy a relaxing afternoon tea at our Coeur d'Alene bed and breakfast and spend a few quality hours together. The Roosevelt Inn Afternoon Teas are on Tuesdays and Saturdays by reservation only with 48 hour notice. Make the time, and take the time. You'll be glad you did!