Part of the cowboy mystique of the West is the idea of a rider and their horse setting out on a journey together. At Rider Ranch, only 8 miles to the east of Coeur d'Alene, visitors to the Gem state can reclaim a part of that magic. There, guests are able to experience the thrill of riding on horseback. Whether a first time rider or an experienced equestrian, the ranch hands at Rider Ranch are always eager to help and happy to teach.
Two different kinds of rides are offered by the ranch, depending on the type of experience the rider would prefer. The first is a pleasure ride, generally offered at the hours of 10:00 AM and 1:00 PM with some time flexibility available. The minimum age for attending this ride is eight years old. On the trail ride, which spans between 60 and 90 minutes, ranch hands will guide you and teach you about the plants and animals you will see. Deer, turkey, squirrels, wildflowers and ranch dogs all bring the beauty of the Idaho ranch into perspective along the ride. After the ride, guests are welcome to stick around the ranch for homemade refreshments and relax on their charming porch.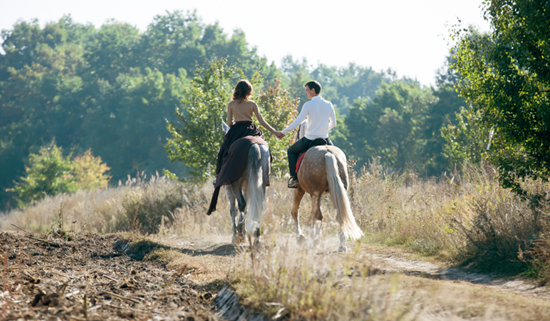 The second type of ride, a unique experience to be sure, is an evening dinner ride- it would be a spectacularly fun family group outing or for Perfect for a romantic getaway in Coeur d'Alene! The rides begin at 6 pm, with times starting earlier in September as the weather begins to change. Like the pleasure rides, the minimum age for this ride is 8 years old. On this exciting jaunt, you'll enjoy an hour of trail riding along the backdrop of the Idaho sunset. Nearing the end of the ride, you will reach a meadow, where a steak dinner with fresh bread, potatoes, beans, salad, coffee, and even dessert await you.
Horseback riding is a delightful way to experience the scenic beauty of nature at any age, and is especially lovely in the scenic northern hills of the Gem state. It allows you to escape from the pressures of life and truly relax. Book your stay at our historic Coeur d'Alene bed and breakfast and be sure to add Rider Ranch to your list of adventures for a unique and memorable vacation experience.