The Roosevelt Inn with its 15 rooms and suites is the perfect place for a family reunion or corporate retreat. Our city comes alive with the many events (most within walking distance) and our location enables you to participate easily. Come join us for: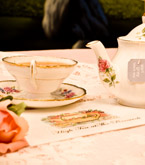 Coeur d'Alene Marathon ---May
Car d'Alene Classic car show ---June
Ford Iron Man Triathlon ---June
Art on the Green, Street Fair & Taste of Cd'A ---August
Coeur d'Alene Triathlon ---August
Wooden Boat Show ---September
Holiday in Lights ---November & December
Class reunions ---Anytime
Murder Mystery Upcoming Dates for 2012/13
Oct 26th, Nov 16th, 2013 Jan 18th, Feb 22nd, March 15th, April 12th.
Murder Mystery Dinner Rates $49.00 dinner only or $119 per person for the night, includes the room, dinner. Private parties can be any time through Nov to March except Sundays.
All Events at The Roosevelt Inn
High Teas ---Tuesdays and Saturdays by appointment all year.
Murder Mystery Dinner ---Seasonal, October through April
Jane Austen Literary Weekends ---Seasonal, November through March
Weddings ---Always
Massage therapy ---by Appointment with our licensed therapist.
Ballroom and Gardens
Our Ballroom provides a beautiful atmosphere for indoor functions. The area seats up to 60 people comfortably and is the perfect setting for, weddings, meetings, church retreats, recitals, civic organizations, reunions, Bar mitzvah, anniversary or birthday parties! Our expansive gardens can accommodate hundreds! Surrounded by our 100 year old maple trees on the west, and our rolling lawn on the east this beautiful outdoor setting is great for any event. We'd love to host a memorable occasion for you at The Roosevelt, pricing starts at $425 please call for details.